Packaging Blade
The

perfect choice for cutting corrugated cardboard, medium to heavy foam, bubble wrap, bone, & styrofoam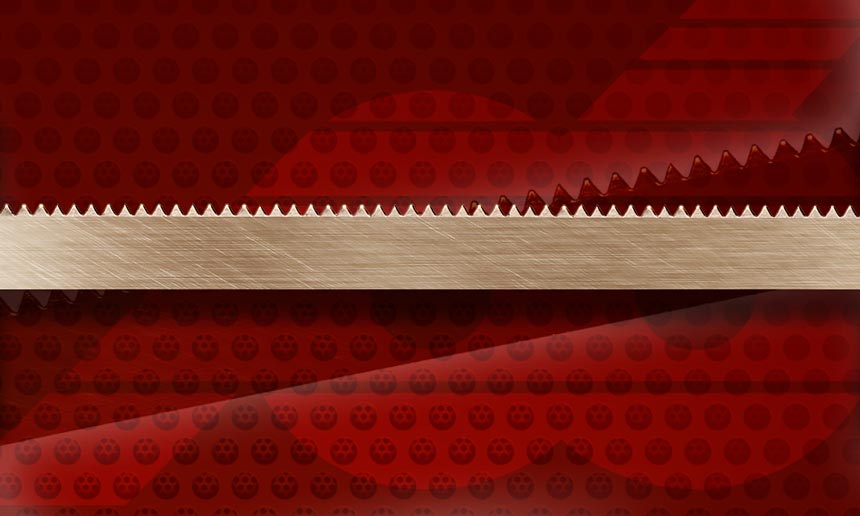 The "Packaging Blade" is the perfect choice for cutting corrugated cardboard, medium to heavy foam, bubble wrap, bone, styrofoam, and tissue processing. "Packaging Blades" have a set tooth configuration (ETS-one tooth left, one tooth right, etc.) or Raker (one tooth left, one right, with the third tooth straight). The blade is induction heat treated to provide a harder cutting surface and extended blade life.
The "Packaging Blade" material is manufactured using high carbon European mined ore. The chemical composition of the finished product is a unique metallurgical structure exclusive for all Precision Blade products. The finished product includes a unique heat treating process which significantly hardens the blade providing significant extended blade life. Our state of the art manufacturing processes is methodical in guaranteeing every tooth is properly sized, extra sharp and set to precise specifications. Precision Blades proprietary welding process also delivers a stronger bond which withstands higher feed rates than other blades on the market.
Gauge
.020″
.025″
.032″
.035″
.45MM
Width
1/4″
S, D
6.35MM
3/8″
S, D
10MM
1/2″
S, D
S, D
12.7MM
5/8″
S, D
15MM
3/4″
S, D
S, D
19MM
1″
S, D
S, D
S,D
25MM
1 1/4″
S, D
31.75 MM
30MM
S, D
.5MM
.65MM
.8MM
.89MM
Metric
S= Single Edge         D= Double Edge
Packaging Blades available with either an ETS or Raker tooth configuration.
* For double edge blades, add $1.00/ft.
* For large quantities, consult factory for additional discounts.
"Contour Blades" are available:
Knife Edge or V-Tooth
V-Tooth pitches of 14, 18, 24 Teeth/Inch, or flat tooth, 10 Tooth Mini-Scallop, or Piranha Scallop tooth configurations
4 widths available in 3, 3.6, 3.8, or 4.5MM
4.5MM available with a longer tooth for extended blade life
Thickness gauge, depending on width, .45MM, .6MM, .7MM, or .8MM
Induction heat treated of teeth available for extended blade life
Single or double bevel
Single edge only
Stainless Steel available
*Consult Precision Blades technical staff at (662) 869-1034 for more information and recommendations for your specific applications.
Industry Leading quality, made in the U.S.A.
Precision Blades is built on one thing, and that is the satisfaction of our end user
_______