Stealth Blade
The

premium blade choice for cutting all type of metals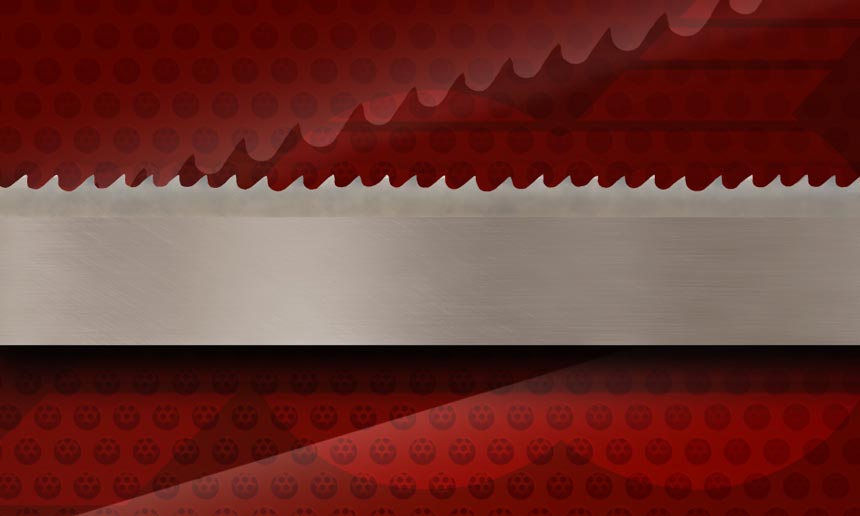 The "Stealth" is anM42 high cobalt Bi-Metal multi-purpose blade – the premium choice for cutting all type of metals. "Stealth" possesses a positive rake of 5 to 10 degrees, depending on tooth pitch, to more aggressively cut through difficult machining solid, angled, thick wall tubing and light structural metals. A modified progressive close tolerance tooth set provides a smoother finish than a standard raker set. Tooth profile delivers aggressive cutting performance while resisting tooth strippage.
The "Stealth" blade material is manufactured using high cobalt European mined ore. The chemical composition of the finished product possesses a unique metallurgical structure exclusive for all Precision Blade products. Our state of the art manufacturing processes is methodical in guaranteeing every tooth is properly sized, set, and extra sharp. Precision Blades proprietary welding process also delivers a stronger bond which withstands higher feed rates than other blades on the market.
Stealth Brand
                                                                                         Pitch-Teeth/Inch (TPI)
Widths
Gauges
2\3
3
3\4
4\6
6
5\8
1/4″
.025″
X
1/2″
.035″
X
X
3/4″
.035″
X
X
X
1″
.035″
X
X
X
X
1 1/4″
.042″
X
X
X
X
1 1/2″
.050″
X
X
X
X
2″
.050″
X
X
X
X
2″
.063″
X
X
Available as single edge only
* For large quantities, consult factory for additional discounts.
"Stealth" is available:
7  widths from ¼" to 2",
Thickness gauge, depending on width, of .035", .042", .050", or .063"
7 tooth pitches ranging from 2/3 variable to 6 constant Teeth/Inch (TPI)
Available as single edge only
 To insure maximum life of M42 band saw blades it is extremely important to properly break them in.
The correct procedure after installation is to reduce the feed force into the material at 50% of normal speed for a period of 20 minutes. Then gradually increase feed force in 4 steps during a 10 minute period. This break-in process can extend blade life up to 50%.
 *Consult Precision Blades technical staff at (662) 869-1034 for more information and recommendations for your specific applications. 
Industry Leading quality, made in the U.S.A.
Precision Blades is built on one thing, and that is the satisfaction of our end user
_______